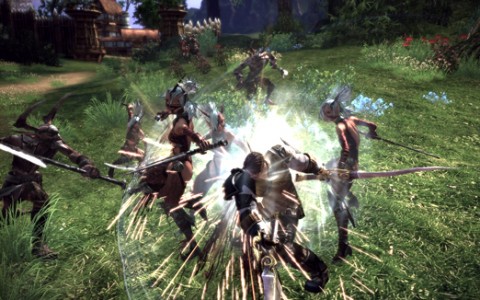 Earlier this week, En Masse's Tera was released worldwide for the PC. While using the keyboard is standard in today's PC gaming world, one of the features that Tera has, is the ability to setup and use a Playstation 3 controller.
Using a program called MotioninJoy, you can connect your DualShock 3 or SIXAXIS controller to your PC. It does require a wired connection, but beyond that, it will work like any other PC controller.
If you wish to use the PS3 controller while playing Tera, download the MotioninJoy program and install the application. After installing it, follow these steps to set it up:
– Run DS3 Tool
– Connect your PS3 DUALSHOCK 3 / SIXAXIS to your USB 2.0 slot. Let it install and you'll should see that the controller is charging.
– In the MotionInJoy application, click Driver Manager
– You should see your controller with a check box. Check it and load the driver.
– Let the driver install and restart
– Once you restarted your PC, open DS3 Tool again and you're set!
Now, when it comes to playing with it in Tera, you will notice that the buttons and controller map are all mixed up – like X button is O, etc. To get it to control like it should be, create a custom profile for your Dualshock 3 controller and follow this recommended settings:
Note: The buttons should be set to Gamepad Button. As for the analog stick, it should be set to Gamepad Axis.
Triangle = B4
Circle = B3
X = B2
Square = B1
L1 = B 5
R1 = B 6
L2 = B 7
R2 = B 8
Select = B 9
L3 = B 11
R3 = B 12
Start = B 10
For the analog stick controls, choose Gamepad Axis instead of Game Button.
L(up) = Y Negative
L(right) = X Positive
L(Down) = Y Positive
L(Left) = X Negative
R(up) = Rz Negative
R(right) = Z Positive
R(down = Rz Positive
R(Left) = Z Negative