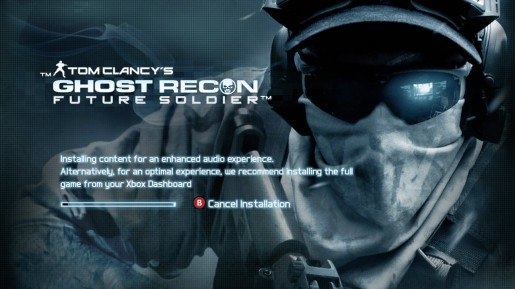 Gamers who will be picking up Ghost Recon: Future Soldier on the Xbox 360 at midnight should save some space on their Xbox 360 as there will be some required data installation.
Upon booting the game for the first time, you'll be required to wait for a couple of minutes while the game install some of the game's audio into your hard drive. As you wait for it to finish, you'll see another message on the screen giving you a recommendation of installing the game onto the hard drive to increase its performance. If you decide however to install the game, make sure you have at least 7GB of space into your hard drive. While this is for the Xbox 360 version only, those who will pick the game up will be required to install the game at a 6.5GB in size.
Check back with us tomorrow for our review of Ghost Recon: Future Soldier at 12PM PST. Stay tuned.