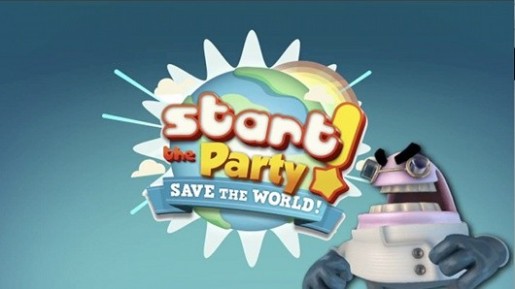 When the Move was first announced, it was obviously going to cater to more casual gamers. This naturally led to a rise in party games using the device. One of those titles was Start the Party! Despite its weird name, this party game was extremely successful. Roughly a year later were greeted to the much anticipated sequel, Start the Party! Save the World. The only question is, can Start the Party! save the Move or is it doomed like several other Sony products?
Find out what's HOT and what's NOT in our review of Start the Party! Save the World.
HOT
Quirky Art
What makes Start the Party! Save the world stand out, is simply the art. This is not because it's amazingly high quality, but because it's stylized in such an interesting fashion. Creatures like a pterodactyl, look goofy and silly to almost a level of cuteness you don't always see. This is true for many of the designs found in this title and offers an all-around unique experience.
Mini Games
Start the Party! Save the World features 20 pretty diverse mini games. Just about every mini game focuses on something the Move can do and many are surprisingly fun to play. These can range from using the Move to picking up parts to build something or simply shooting down enemies. Most of the games have deceptively simple objectives, which allow for more impressive scores. This can make a co-op game a lot more thrilling, since skill will make a difference.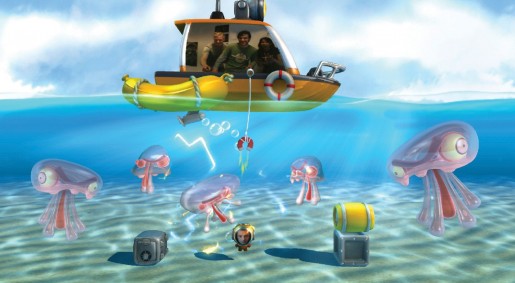 Survivor Mode
This is one of the most addicting aspects of the game. You see, Survivor mode is about lasting for as long as possible. Considering many mini games are extremely simple, Survivor mode gives you a run for your money. This is achieved by starting you on a random level and then cycling you through about eight stages periodically. These can jump from shooting, to grabbing, to knocking bears off the side of the bus, which while this going on you must keep up with the game. The longer you last, the better you're doing. When you get sick of the mini games, this is a great way to keep them interesting.
If you're not interested in playing by yourself, you can also play a dumbed down version in multiplayer. This mode or Quickfire features three rounds where the challenges will cycle. There are far less challenges here than in Survivor Mode, although this is a great way for more "hardcore" gamers to show off while having fun.
Multiplayer
Considering each mini game requires different skills, Start the Party! Save the World implements an extremely well done party mode. At the start, you're able to select which character you want and apply your face to them. After this, you're able to speak your name so things won't get confusing. Once everyone has made their selection, you can select the duration (Short, Medium or Long). Depending on what you select, the amount of rounds will change. From here, the game will randomly select stages for your party to enjoy.
The order will vary from round to round, so you need to pay attention. Each player will be given a set amount of time to finish whatever mini game they have. As you score points, a bar to the right will slowly fill up with your icon next to it. This bar will continue to show where each person scored before you. Naturally, this will amp up your competitive side and allow for a greater challenge. Once everyone finishes, you will be given coins based off where you placed. Whoever has the most coins wins, but if there is a tie, there will be a sudden death mini game to decide it all.
NOT
Story
Every mini game will start with a small introduction. These are usually just a vague explanation that justifies what you're doing. However, beyond this there is no actual story. This might be disappointing to some gamers, as the Save the World name implies something of a story. While this is most likely for the best, even a small cut scene where you save the world would have been nice.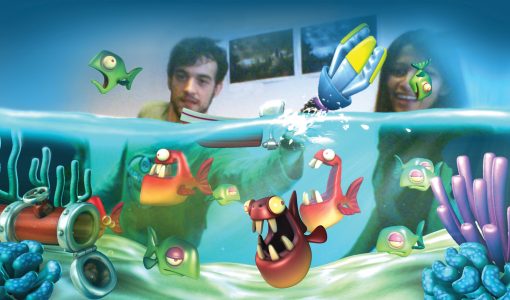 Short
Unless you expect to play with others a lot, you most likely won't get your money's worth. The 20 basic mini games can all be completed in under 2 hours. At this point, you can constantly replay your favorites or simply play survivor mode. In either case, you will most likely get all the high scores in under 10 hours and even achieve the platinum.
VERDICT
Start the Party! Save the World is a fantastic title for friends or family to play. It manages to have appeal to a large demographic and even offers some single player content. However, there is limited lasting charm outside of multiplayer. If you're looking for a title to play with your children, this is a stellar choice! If you might place with friends once in a while, you might want to wait for a price drop.
[Editor's Note: Start the Party! Save the World was reviewed on the Playstation 3 platform with the Playstation Move. The game was provided to us by the publisher for review purposes.]
Start the Party! Save the World Review

,