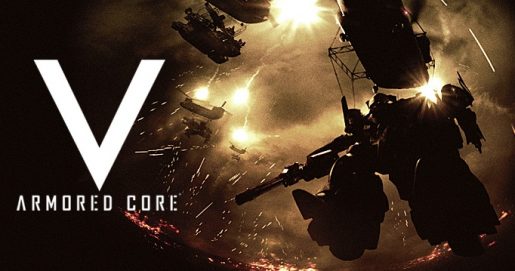 In addition to Dark Souls and Demon's Souls, From Software is also behind one of the longest-running mech-simulation series, Armored Core. Throughout the past decade, Armored Core has provided entries that, overall, have come across as average, usually resulting in an abundance of "hit-or-miss" receptions. Now, Armored Core V has been released on the Xbox 360 and PlayStation 3 and From Software has implemented new features that fans of the series might actually be interested in. But will it provide enough incentive for fans to lay down the money?
Let's take a look at the HOTs and NOTs in our review of Armored Core V.
HOT
More Focus on Massive Online Multiplayer
While Armored Core V carries the Armored Core title in its name, it's far from the game mech-combat game everyone used to play. The moment you start the game, you will be introduced to the online portion where you can create and assemble your own team to partake in missions or simply join the other available ranks based on your location. Armored Core V contains a somewhat weak story portion and focuses more on the team-based multiplayer action where you and other members in your team can participate in various missions (including story mode). A majority of the entertainment now resides in how well you work with the team.
Most of the missions within Armored Core V focus primarily on taking over territories or eliminating other mechs. In the map-stylized menu at the beginning of the game, you will have to choose from a variety of options that determine your objectives. Each mission has its own objective, but you'll notice that they are mostly conquest type modes. Every time you start the game you're immediately connected online, assuming you have a connection to the network set up. For this reason, you might be playing with a Team or by yourself depending on the availability of other players. After finishing a mission online or offline, you will receive money and points that you can use in order to unlock missions.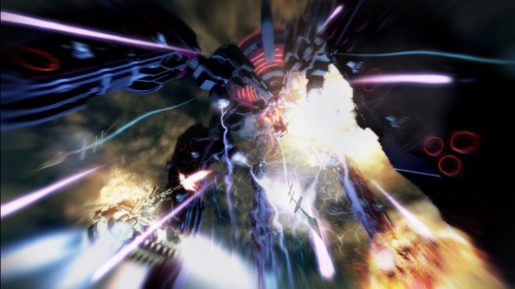 Lots of Explosions and Actions
There's a lot of action and explosions in Armored Core V. As with every game in the series, you will be controlling your own customized mech that can be used both offline and online. With the money that you receive from missions, you can purchase parts and make your mech extremely powerful. Those who want to stay ahead of battle will find themselves customizing their mechs constantly, as it's really important for them to keep in check as enemies out there can wipe you out instantly. Once everything is set up and ready to go, you can then use the mechs in a variety of missions offered within the game. Using your heavy weapons and other parts of your arsenal, you will undoubtedly create an explosive action experience while teaming up with friends as you work toward your objective. Controlling the mechs hasn't changed much from what fans have experienced in the past. With the use of RT, you can launch a missile while LT is used to fire the machine gun. If you are worried about facing a steep learning curve for controls, don't worry as it's easy to get used to. Even newcomers can learn the control layout within minutes.
Other Modes; Invasion and Stronghold
In addition to Order missions, there are others that will interest fans. Those who likes to capture territories can choose the Invasion mission, while those who like to defend areas can select the Stronghold mission. These two missions can be accessed through the Conquest Mode and each one can be played alone or with friends. Depending on how much Team Points you obtain, there will be times where you can't join certain missions. In other words, gathering as many team points is recommended for those who like invading territories. Those who will be on Offense in the Conquest mode will have to put the team points on the line and, if the person on offense lost the battle, the team points will go to the defense side.
NOT
Hard to find Online Players
For a massive online multiplayer game, Armored Core V lacks actual players to play with. Even after the server opened up and the game launched, the chance of finding a match is very minimal. However, since there are teams that you can join, messaging them to schedule a time to play is a current workaround, but since it's rare that you'll find someone to play with, you'll most likely wage battles with AI controlled enemies. I hope that, as the days pass by, more and more players will be present online, otherwise the planned online portion of the this game will be somewhat useless.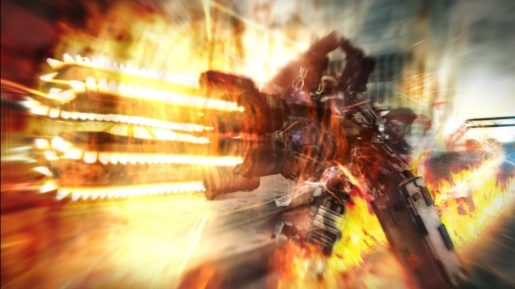 Sub Par Visuals
After everything is set and you have your own team, you will be graced with beautiful cutscenes. You'll be amazed at how wonderful the CGI looks, which may lead you to assume that the in-game visuals look similar. Those who have that mindset will be disappointed since the in-game graphics look abysmal. For a game that's on a next-gen console, I was hoping that the graphics would be on par with what we see today, but it's closer to the graphics of last-gen. The environments look bland, the textures are repetitive and there are slight frame rate issues. Those who are used to the visuals of the PS2 Armored Core titles will not complain much, but those who are seeking improved graphics will be utterly disappointed.
Forgettable Story
I'm the type of gamer that looks for a solid story and, during my time with Armored Core V, I noticed that the story present leaves a lot to be desired. Since the main focus of this game is online, I can understand why the story is sub-par. Those who plan on playing the story mode will be introduced to the ongoing conflict with two different factions. While it's pretty common for Armored Core games, this one doesn't appeal to me at all, especially with the mediocre voice-overs. However, what the game does the best when it comes to presentation is the soundtrack.
VERDICT
With Armored Core V's focus on playing co-operatively with other people, the game falls short of expectations when you realize that, at the time of writing, no one is available online. The customization and action that we are all familiar with in Armored Core games remain the same. If you are going to play the game by yourself, you won't get the full experience that From Software was going for, but for those who get lucky and manage to find active players to join will find the team multiplayer experience worthwhile.
[Editor's Note: Armored Core V was reviewed on the Xbox 360 platform. The game was provided to us by the publisher for review purposes.]
Armored Core V Review

,