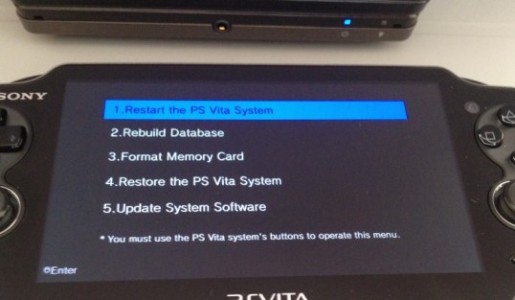 Similar to the PlayStation 3, the PS Vita has a recovery mode in which you can access whenever the database of the handheld gets corrupted, or it won't simply boot due to the corrupted files.
Performing the Recovery Mode won't void any of the PS Vita's warranty and it's something you should keep in mind as it will be useful at some point. When in recovery mode, you can do the following:
– Restart the PS Vita
– Rebuild the Database
(If the system files of the handheld gets corrupted, rebuilding database is what you should be doing.)
– Format Memory Card
– Restore the PS Vita System
– Update System Software
Now, the question is, how do you access the Recovery Mode? Well, it's simple!
– Turn OFF your PS Vita (Press Power Button for 10 seconds)
– Now press and hold "R" + Power + PS Button
How To Get Your PlayStation Vita in Recovery Mode

,