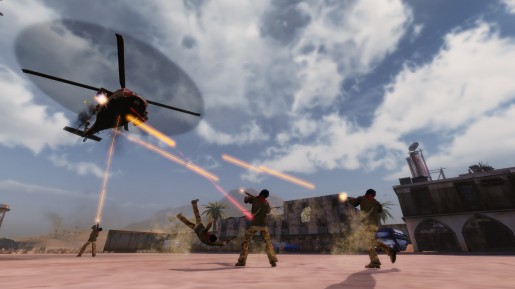 For many of you, when you hear the name Choplifter, nothing comes to mind; for others, that name takes us back to a simpler time. A time when our controllers had but one button; when video game concepts were as simple as crossing a freeway as a frog, or catching food with a floating mouth, anyone remember Fast Food?
Does Choplifter HD indeed scratch that nostalgic itch as well as appease to younger gamers or does it fail to revive the glories of the past and should be passed over in favor of other HD remakes? We find out as we look at what's HOT and what's NOT in our review of Choplifter HD.
HOT
Simplistic yet Complex Gameplay
The beauty of the original Choplifter was its simplistic gameplay. You are a helicopter rescue pilot tasked with flying into battle to pick up people, and return them safely to base all the while avoiding being shot down by enemy soldiers, tanks, and the nefarious black jets. inXile entertainment did a phenomenal job by maintaining the simplistic nature of this game while implementing twin-stick shooter mechanics. Unlockable helicopters, hidden objectives, and intriguing new enemy types allow Choplifter HD to be a game that is easy to pick up and get into, but can take days to master.
Each time gamers complete one mission, a new mission becomes available along with a new helicopter; these helicopters are not available on new missions however, as each mission must be completed in order to use unlocked choppers. Once the game has been completed on normal, a more difficult setting opens and the third difficulty can only be opened after a playthrough of the newer setting.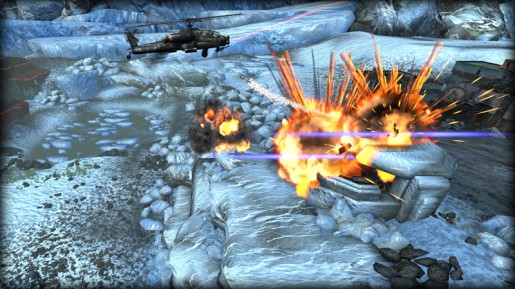 Detailed Landscape Provides Lots to See
The graphics in Choplifter HD may not be comparable to major blockbuster titles, but in the downloadable market, it definitely holds its own. At times, it can be difficult to spot the Scoop Sanderson, the annoying reporter that you can save during each mission, but that is only because of how much chaos is happening on screen at the same time. Seeing another helicopter in the background crash because it could not shake the horde of zombies (that's right, I said zombies) hanging from it was a sight to behold.
Explosions run rampant as the landscape can quickly change as you fly from your navy ship base through abandoned street tunnels, to pick up survivors on collapsing bridges. Choplifter HD can easily overwhelm the eyes as gamers will be constantly scanning from background to foreground as enemies can appear anywhere.
Amusing Dialog and High Sound Quality
The sound in Choplifter HD is not only amusing, it acts as crucial queues to what is going on around you. The playful banter between the pilot and co-pilot will sooth gamers to play past frustration during the more difficult levels. Finding Scoop Sanderson each level just to hear what the co-pilot has to say about him almost become a mini-game each stage rather than a hidden objective. E.M.P. Snipers, Tanks, and Jets all make specific sounds, usually well before you spot them visually, that can instantly send you into a panic scouring the screen for them before they take your chopper and its passengers out.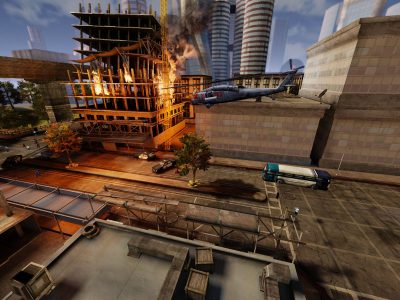 NOT
Don't Stand Under My Choppa!
The only truly negative point in the game, is the fact that the people that you are trying to rescue can be quite stupid at times. Accidentally killing innocents by landing on them is something that will become quite frustrating as gamers shoot for that high score. A death tallies heavily against your score where survivors are not really worth that much. The good news is that the old school trick of landing just outside the landing zone does still coax survivors to run over to the chopper.
VERDICT
Choplifter HD brings the best out of an old school classic and infuses it with modern day gameplay. Do not let the higher than average price point of $15 (1200MSP) deter you; anyone who enjoyed the original will love this remake. Newcomers will get their money's worth, as the game is no easy task to clear. Multiple difficulties and helicopters to unlock, chaotic backgrounds, amusing dialog, and easy to grasp twin-stick shooter controls, all combine to make one of the most satisfying gaming experiences on the downloadable market today.
[Editor's Note: Choplifter HD was reviewed on the Xbox 360 platform. The game was provided to us by the publisher for review purposes.]
Choplifter HD Review

,