If there is one game that I've been anticipating for 2011, that would be Team Bondi's L.A. Noire. Originally a PS3 exclusive, L.A. Noire became multiplatform after Sony dropped its publishing rights and Rockstar picked it up soon after. Since its announcement several years ago, the game received a lot of attention and, finally, L.A. Noire is upon us. For gamers who have played Heavy Rain and Grand Theft Auto games you will feel welcome in playing L.A. Noire. Mixing a heavy-story mission investigation with a big city to drive around, L.A. Noire will offer players vast gameplay where they are able to experience the deep storytelling the game has to offer.
With L.A Noire now available in stores, a lot of people are wondering if the game deserves to be a "Game of the Year" contender. Simply starting the review, I must say that yes, L.A. Noire has potential in becoming this year's "Game of the Year". But since we're only half way through 2011, it's too early to tell. For those who are wondering why L.A. Noire is a Game of the Year contender, let's take a look on the HOTs and NOTs of the game.
HOT
Compelling Story-telling
For gamers who are seeking a game that is rich and heavy on story, L.A. Noire is the game you should be looking for. In the 21 main cases that players will be solving, all of them have very deep storytelling. Each of the cases have their own story and those who will solve it will pretty much get hooked in.
The story of L.A. Noire revolves around Officer Cole Phelps of the Los Angeles Police Department in the 1940s. His admirable work in apprehending suspects and good intuition in catching criminals has allowed him to work his way up through the ranks easily and obtain the title of Detective. Throughout the game, players will get to learn more about Phelps' life before he joined the police force and how life was for him during the war. With the Los Angeles city known as an area with a lot of criminals, Phelps will have to clean up L.A. by doing investigations, apprehending criminals and taking them down if necessary. The compelling story of L.A. Noire doesn't revolve on Phelps, but instead focuses on the citizens of L.A.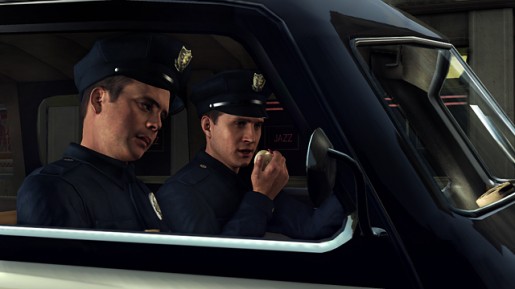 Heavy Rain Meets Grand Theft Auto
Remember how Heavy Rain was all about finding clues of the Origami Killer? Well, in L.A. Noire players will be doing numerous investigations, decision making, and much more. There a total of 21 cases that Phelps will be solving and each of them have their own story to tell. Solving the case varies from apprehending a criminal or doing detective work. What makes L.A. Noire fun are the outcomes of the players' decision. In a some cases, players may find clues related to the crime at the crime scene. From here they will investigate it, present it to the suspect, and interrogate said suspect. With every answer the player gets out of the suspect the outcome is affected. To make detective work easier, Phelps will have a notebook where he will jot down all of the information he gathers from a scene. From there, it us up to the player to properly utilize the information they have for analysis and in conducting interrogations.
After a successful case or interrogation, players will be awarded with experience points. In gaining experience points players will be able level up via a ranking system. Based on the ranks, players will get a lot of unlockables such as bonus EXP or simply a costume that Phelps can use. Similar to other Rockstar Games, L.A. Noire also has Social Club Challenges where players can participate and win prizes. The challenges are all based in-game.
Moving from Heavy Rain, another close reference of L.A. Noire is Grand Theft Auto. For gamers who love sandbox games and driving around open worlds L.A. Noire has you covered. Aside from doing detective work, players will be riding Phelps' car and exploring parts of L.A. The players can interact with the citizens, get side missions called "Side story cases" and a lot more. The gameplay is pretty much similar to Grand Theft Auto especially during fight scenes. When Phelps is in a situation where he has to use a gun. Players will enter into a fight mode where he will have unlimited ammo.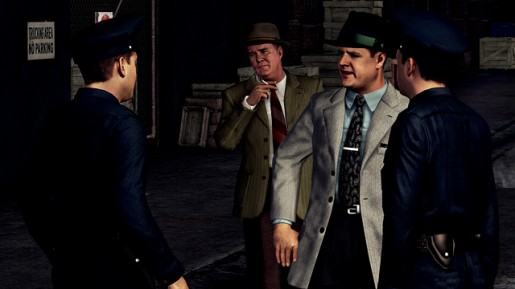 Phenomenal Voice Acting
Another accomplishment that Team Bondi did with L.A. Noire is the voice acting. Often times, when it comes to voice acting, I look at how the voices are in sync with the lips. Most games' voice overs have poor synchronization as can be seen by the lips' movement in correspondence with dialogue, but in L.A. Noire the developer did a great job to remedy that. Every word and piece of dialogue that the characters say in the game show the precision of the lip sync. Most of the time when watching a scene, I often felt that I was watching a movie and not playing the game at all. Thanks to the exemplary voice actors L.A. Noire's story is so believable and I'm pretty much astounded by it. I'm not surprised why the game reached 25GB of data.
Lots of Collectibles and a Long Game
As with every game that Rockstar publishers, there are items in L.A. Noire that players can collect. With a city that is massive, players will be spending plenty of time looking for newspapers, using all different kind of cars, and that's just scratching the surface. These collectibles will give players an exceptional amount of rewards that they can use later in the game. One of the big things for me in L.A. Noire is the ability to change Phelps' suit. With over 10 suits that Phelps can wear, collecting them all will be challenging but rewarding.
Looking for a game that will last for a while? L.A. Noire will be your best pick as the game will take you 14 hours to simply finish the main story. If players decide to stray from the story there are 40 side missions that will be sure to keep you occupied.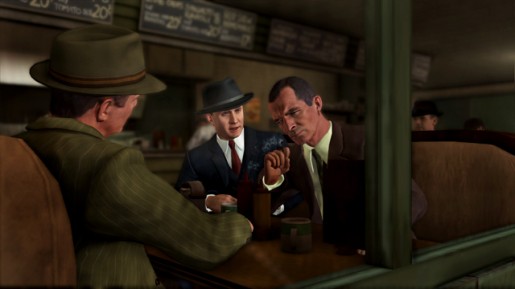 Future DLCs
L.A. Noire has a lot of potential in the future. For those who were disappointed by the canned episodes of Heavy Rain, don't worry about L.A. Noire as the game looks like it'll be receiving its fair share of downloadable content. Gamers who plan on getting the PS3 version there's already an exclusive case included with the copy.
NOT
Slight Hiccups
When it comes to a game as big as Grand Theft Auto, having a perfect game with no graphical hiccups are nearly impossible. In L.A. Noire, the game is no stranger to this issue. At many sections of the game (especially the Xbox 360) players will be experiencing graphical hiccups where the screen will tear or something will freeze for a couple of seconds. The frame rate drops a lot on the Xbox 360 version while the PS3 is flawless. If the players are getting L.A. Noire on the Xbox 360, I highly suggest to install the discs on the hard drive. PS3 owners don't have to worry about that, but there will be a mandatory installation waiting for you.
VERDICT
L.A. Noire is a must have game for anyone who is seeking for a story-driven game with wonderfully, mixed in action. Everything you want from Heavy Rain and the Grand Theft Auto games are all packed into one game and, in the end, it doesn't disappoint. If L.A. Noire has garnered any of your interest at all (I believe it has a good chance of nabbing Game of the Year for 2011), then don't hesitate on grabbing this expertly crafted title.
[Editor's Note: L.A. Noire was reviewed on the PlayStation 3 and Xbox 360 platform. The game was provided to us by the publisher for review purposes.]
L.A. Noire Review

,