Senran Kagura Peach Beach Splash Review
Good: Story is quite funny, retains the elements fans love, lots of customization
Bad: No English voice acting, is a little too easy
User Score
8.5
(2 votes)
One of the advantages of having a silly franchise, is the ability to take it in a weird direction. So when Senran Kagura Peach Beach Splash was announced, it seemed like a fun take on the established formula.  Instead of being an pervy version of Dynasty Warriors, Senran Kagura Peach Beach Splash is a shooter that utilizes water guns. With a variety of weapons, plenty of erotic content and all the things people love about Senran Kagura, it looks to be a solid spinoff. The question becomes, is Senran Kagura Peach Beach Splash a welcome change or is it like a cold shower?
Senran Kagura Peach Beach Splash starts by taking the premise seriously. Apparently Peach Beach Splash is a sacred event for ninjas, both alive and dead, where they get together and fight via water guns. By taking the obviously ridiculous plot seriously, most of the humor comes from the absurdity of the situation. That is until the girls learn the winning team receives a wish.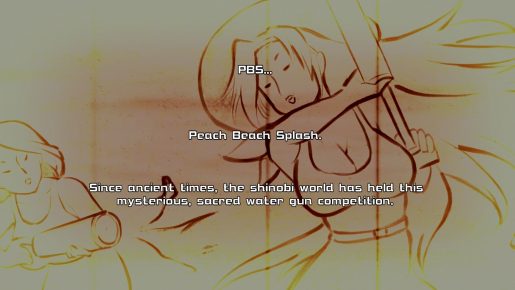 At this point the plot moves away from the absurdity of the concept and into the familiar territory of character interactions. Each of the teams have their own story that centers around what they hope to gain from the event. Fans of the series will likely enjoy how the interactions play out, as Senran Kagura Peach Beach Splash doesn't act like a spinoff, as much as a side story.
Considering the plot is paper thin, players will spend most of their time shooting girls with water guns. The combat is, unsurprisingly, straightforward. There are a handful of weapons, including a gatling, dual pistols, grenade launcher, RPG, etc, which work like you'd imagine them to. The grenade launcher fires water balloons, the RPG soaks a large area, dual pistols are fast and so forth.
Senran Kagura Peach Beach Splash Review

,