The Last of Us – Complete Tags and Trophy Rewards Guide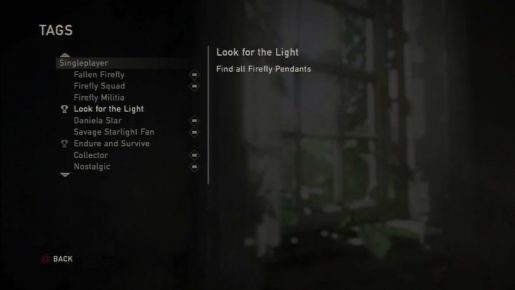 In addition to the trophies that you will be getting in the Last of Us, there's also some sort of mini-achievements called Tags. For every tag that you unlock, certain amount of money will be rewarded to you that you can use to buy stuff in-game.
The cash that you earn for every tags unlocked can be used to buy items like the Skins, Concept Art, Render Mode Select and many more. If you are looking for ways to get cash for your in-game item needs, we got the breakdown of all tag rewards that you can unlock.
– Fallen Firefly
Find 1 Firefly Pendant
Reward: $100
– Firefly Squad
Find 10 Firefly Pendants
Reward: $100
– Firefly Militia
Find 20 Firefly Pendants
Reward: $100
– Look for the Light
Find all (30) Firefly Pendants
Reward: $250
– Daniela Star
Collect all three comics
Reward: $100
– Savage Starlight Fan
Collect seven comics
Reward: $100
– Endure and Survive
Collect all (12) comics
Reward: $250
– Collector
Find 1 Artifact
Reward: $100
– Nostalgic
Find 10 artifacts
Reward: $100
– Every Nook and Cranny
Find 30 artifacts
Reward: $100
– It was all just lying there
Find all 80+ artifacts
Reward: $250
– Safe Help
Find 1 training manual
Reward: $100
– Reading Material
Find 6 training manuals
Reward: $250
– Scavenger
Find all collectibles
Reward: $500
– Melee Crafter
Craft 30 upgraded melee weapons
Reward: $100
– Shiv Crafter
Craft 30 shivs
Reward: $100
– Kit Crafter
Craft 30 Health Kits
Reward: $100
– Molotov Crafter
Craft 30 Molotovs
Reward: $100
– Bomb Crafter
Craft 30 Nail Bombs
Reward: $100
– Smoke Crafter
Craft 30 Smoke Bombs
– Let's gear up
Craft every item
Reward: $100
– Secret Cache
Unlock 1 Shiv Door
Reward: $100
– Breaking and Entering
Unlock 5 Shiv Doors
Reward: $100
– Master of Unlocking
Unlock all Shiv Doors
Reward: $250
– Take your Vitamins
Upgrade a skill
Reward: $100
– Performance Enhancement
Fully upgrade a skill
Reward: $100
– Everything We've been Through
Fully upgrade Joel with supplements
Reward: $250
– For Emergencies Only
Fully upgrade all weapons
Reward: $500
– Getting to know you
Engage in an optional conversation
Reward: $100
– Small Talk
Engage in 10 optional conversation
Reward: $100
– Bonding
Engage in 20 optional conversations
Reward: $100
– I want to talk about it
Engage in all optional conversations
Reward: $250
– No Pun Intended
Listen to a full set of Ellie's Jokes
Reward: $100
– No Pun Intended: Part Too
Listen to 2 full sets of Ellie's Jokes
Reward: $250
– That's all I got
Survive all Ellie's Jokes
Reward: $500
– Hey, A$$hole
Hit 10 enemies with brick or bottle
Reward: $100
– Heads Up
Hit 30 enemies with a brick of bottle
Reward: $100
– Up Close and Personal
Kill 50 enemies with a melee weapon
Reward: $100
– By Any Means
Kill 5 enemies in a row with a melee weapon
Reward: $100
– Molotov Master
Kill 50 enemies with Molotovs
Reward: $100
– Molotov Expert
Kill 3 enemies with 1 Molotov
Reward: $250
– Nail Bomb Master
Kill 50 enemies with Nail Bombs
Reward: $100
– Nail Bomb Expert
Kill 3 enemies with 1 Nail Bomb
Reward: $250
– Improvised Weapon Master
Kill 50 enemies with an upgraded melee weapon
Reward: $100
– Improvised Weapon Expert
Kill 3 enemies with an upgraded melee weapon in a row
– Make it Quick
Kill 50 enemies with a Shiv
Reward: $100
– Smoke Bomb Master
Kill 30 enemies while they are in smoke from Smoke Bomb
Reward: $100
– Put Him Down
Kill 10 enemies while holding an enemy as a human shield
Reward: $100
– Makeshift Armor
Kill 3 enemies while holding the same human shield
Reward: $250
– Steady Hand
Kill ane nemy from 30 meters away with a bow and arrow
Reward: 250
– Bow Expert
Kill 5 enemies in a row with a bow without breaking stealth
Reward: $250
– Rifle Master
Kill 30 enemies with a Hunting Rifle headshots
Reward: $250
– Flamethrower Expert
Kill five enemies with a single burst of Flame Thrower
Reward: $250
– Shotgun Expert
Kill 3 enemies with a single shotgun blast
Reward: $250
– Barehands
Stealth kill 20 enemies by strangling them
Reward: $100
– Too Close for Comfort
Kill a bloater at close range
Reward: $100
– The Hunter Becomes Hunted
Kill a stalker with a stealth kill from behind
Reward: $100
– Personal Space
Shiv 25 clicks after they grab you
Reward: $100
– No Matter What – Easy
Complete game on Easy
Reward: $100
– No Matter What – Normal
Complete the game on Normal
Reward: $250
– No Matter What – Hard
Complete the game on Hard
Reward: $500
– No Matter What – Survivor
Complete the Game on Survivor
Reward: $500
– No Matter What – Easy+
Complete game on Easy+
Reward: $100
– No Matter What – Normal+
Complete the game on Normal+
Reward: $250
– No Matter What – Hard+
Complete the game on Hard+
Reward: $500
– No Matter What – Survivor +
Complete the Game on Survivor +
Reward: $500