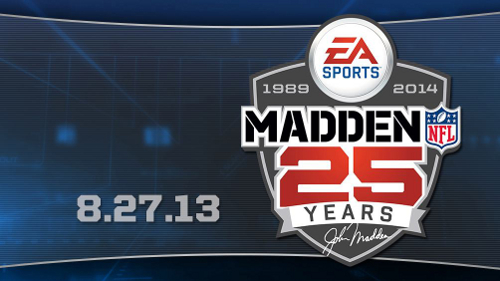 In honor of Madden's 25th anniversary, EA has announced that Madden 25 will be getting an Amazon exclusive limited edition. This edition includes the game, exclusive Madden Ultimate Team content, which comes in the form of 17 Ultimate Team packs, plus another pack every week during the 2013 NFL season. As an added bonus, these aren't just any ordinary packs, since every pack will include two rare players, four silver and four bronze tier players.
In addition to this, it seems the Madden NFL 25th Anniversary Edition also includes a year of the Direct TV NFL Sunday Ticket. For those of you without Direct TV, you can switch for a year of NFL Sunday Ticket Max, plus $10 dollars off your bill each month for a year. Finally for those of you that don't have Direct TV and lack Direct TV in your area, you can get a free trial of the NFL Sunday Ticket package on your computer or favorite mobile device.
For all of this you can get it for a mere $100 dollars, versus the $300+ for buying the Sunday Ticket alone. Before you get too excited, some users have reported the fine print mentions you'll be locked in to pay the full price next year, which is still a good deal if you were planning on buying it anyway, but not so much otherwise. In either case, this edition should appear on Amazon some time tomorrow and with it we will ideally get some more answers about it.