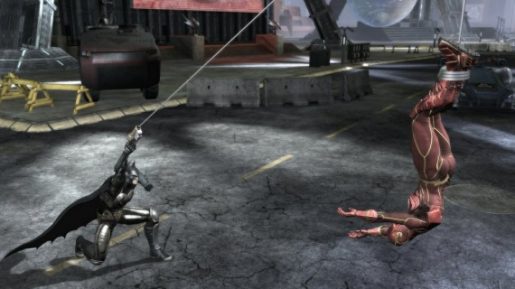 A few weeks back Injustice: Gods Among Us released on iOS, which included a number of bonuses for those with a WBID and the console version of the game. These included special backgrounds and more importantly costumes, but the app was designed with in-app purchases in mind. However, some crafty folks on the internet found a way to not only unlock most of the items, but do so in a way that doesn't actually require an iOS device. If this sounds up your ally, then simply follow the directions below.
Start by making a WBID for Injustice: Gods Among Us, making sure it has a fairly simple password like qwerty123.
Upon making an account, find someone who accomplished every task or at least the tasks you're looking for.
Give that person your WBID information and have them sign into the game with their save.
This should instantly unlock every reward they've earned, though there seems to be some issues getting the daily log in items (no costumes) and some people have reported this doesn't unlock Knightfall Bane. Sadly it seems you actually have to rate the game to unlock Knightfall Bane, though it should work if the person helping you rates the game again.
Finally load up the game and sign into your account. This should give you access to all of the iOS rewards.
Alternative method
Thanks to Mikey's generous contribution, the account below has almost every unlockable item. This includes both versions of the game, though the mobile unlocks aren't complete at the moment. If you want to help others by unlocking them, that would be awesome, but even without that it will give you pretty much everything. Another bonus to this method is that you will get the tools to make unlocking the Console unlocks a lot easier / help your friends out. His information is as follows…
Please note, this information is working at the time of posting and I can confirm it has most of the unlockables.
—
Finally for those wondering what the unlockables are, they're as follow:
Backgrounds
Bane
Solomon Grundy
Superman's Cape
Bars of Gold
Killer Frost
Icons
Wonder Woman
Green Arrow
The Joker
Doomsday
Superman
Portraits (possibly glitched at the moment)
Wonder Woman
Green Arrow
The Joker
Doomsday
Superman
Costumes
 Batman Beyond
New 52 Green Lantern
Knightfall Bane
Arkham Harley
Lockdown Superman