Tony Hawk's Pro Skater HD Review
Good: Same Classic Gameplay, Redesigned Levels Look Great, New Game Modes, Soundtrack
Bad: Roster Changes, Revert Only as DLC, Slightly Altered Physics, No Offline Multiplayer
User Score
7.5
(2 votes)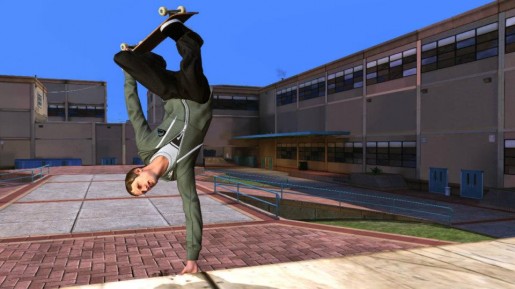 Not
Not All of the Original Skaters Have Returned
Sadly, not all the our favorite skaters have returned and only a small fraction of skaters available are in this remake. Only Tony Hawk, Andrew Reynolds, Eric Koston and Rodney Mullen have returned. The likes of Bob Burnquist, Rune Glifberg and Bucky Lasek are all missing in action. The original skaters have been replaced with younger stars such as Tony Hawk's son Riley Hawk, Lyn-Z Adams Hawkins and Nyjah Houston and more. These skaters aren't bad, although long-term fans will be missing their old favorites.
Revert Feature Only As DLC
One of the most useful features of the entire Tony Hawk series was the "revert" feature. This allowed you to easily string combos to score lots of points. Oddly the feature is only available if you download the upcoming DLC for the game which features some Tony Hawk's Pro Skater 3 levels. What's even worse is that the revert feature only works for the DLC. Even if you download the DLC, it won't work with the original levels featured in the game…
Slightly Altered Physics
Having recently played Tony Hawk's Pro Skater 2 on my old PSOne and then playing this game, I noticed that the physics have been altered and not for the better. The controls have stayed the same as aforementioned but some parts of the game feel a bit off. This remake tries to feel a bit more realistic and it's harder to gain a lot of height even though I increased the stats on Tony Hawk. It's also slightly harder to land from big drops and there have been numerous times Tony Hawk would fall from just a few meters high from a ramp. It's something you may have to get used to if you're accustomed to the physics from the older games.
No Offline Multiplayer
It's great that Tony Hawk's Pro Skater HD features online play, but it's not okay to abandon offline multiplayer altogether. Many fans loved the offline multiplayer modes that were present back in the older Tony Hawk video games and its wrong for it to be completely omitted in Tony Hawk's Pro Skater HD. Robomondo said the reason why splitscreen was omitted was because it would have sacrificed the quality of the rest of the game. Still, this is a really bad decision in my opinion and an offline splitscreen multiplayer mode have been added from the beginning.
Verdict
Tony Hawk's Pro Skater HD is a fun game for fans to revisit their PSOne memories. Since the original Tony Hawk games have never been released as PSOne classics on the PSN, this is the best way to relive your past. Even if you're new to the franchise, you may find that this game offers fun gameplay that is rarely featured in most other games released these days. Tony Hawk's Pro Skater HD isn't perfect though as some of the original skaters are missing and the lack of splitscreen multiplayer is the biggest loss. All in all, not a perfect throwback to the original Tony Hawk games, although it's still fun to play since there aren't many skateboarding games out there anymore.
[
Editor's Note:
Tony Hawk's Pro Skater HD was reviewed on the Xbox 360 platform. The game was provided to us by the publisher for review purposes.]
Page 1 2
Tony Hawk's Pro Skater HD Review

,