Yakuza: Dead Souls Review
Good: Yakuza Vibe With a Twist, Strong Narrative, Flashy Special Moves
Bad: Aggravating Gunplay, Camera Angle Issues, Horrendous Slowdown
User Score
8.8
(4 votes)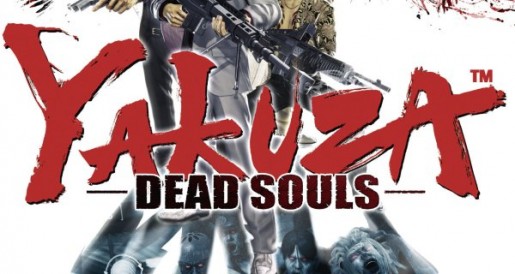 The Yakuza games have been making their way overseas since the series' US debut in 2005 on the Playstation 2. While the franchise hasn't garnered the attention of too many gamers, it has still found a way to make it to those Yakuza fans living on US soil. Last year, a new Yakuza game was released in Japan and it took the series in a much different direction than past entries. Actually, it could be considered the complete opposite of previous games with guns and the undead replacing fist-fighting and, well, living people. Now, we have received the latest installment titled Yakuza: Dead Souls (known as Yakuza Of the End in Japan).
Can Yakuza: Dead Souls live up to the quality set by its predecessors? Let's find out by taking a look at what's HOT and what's NOT.
HOT
Yakuza Vibe With a Twist
The Yakuza games have been able to distinguish themselves from other games due to their exceptional mixture of brawling, exploration, atmosphere and solid storytelling revolving around shady organizations. Dead Souls breaks away from the franchise norm by substituting well-dressed criminals and fisticuffs for zombies and firearms. Kamurocho looks exactly as it did before except for, you know, all of the zombies filling the streets. The end result is a game that provides an experience that appears familiar enough to feel inviting to old fans while the additional game changes and atmospheric alterations manage to intrigue players. For example, players should immediately recognize Sky Finance at the beginning of the game, but it feels completely different when viewed in the wake of a zombie outbreak accompanied by massive structural destruction. I constantly turned corners expecting to see the bustling streets of Kamurocho full of cocky youngsters trying to fight me. Instead, I saw streets devoid of life and filled with debris and walking dead. Many may feel that they know the streets of Kamurocho well enough to walk around confidently, but the combination of recognizable scenery and the devastation brought on by an outbreak is sure to make players second guess themselves as they take in the altered scenery. That's not to say that the old style isn't anywhere to be found. Just outside of the massive walls retaining the virus are civilians going about their daily lives – as if death isn't on the other side of a barrier – surrounded by activities such as golf and golf.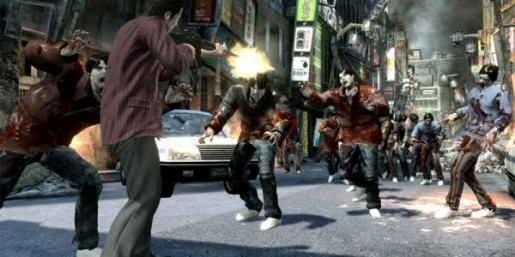 Strong Narrative
As I mentioned in the category above, Yakuza games tend to include a strong story and Dead Souls keeps up that tradition. Dead Souls revolves around a viral outbreak in Kamurocho that pulls in 4 recognizable characters: Shun Akiyama, Goro Majima, Ryuji Goda and series posterboy Kazuma Kiryu. It is worth noting that this game is a spinoff and not cannon (much like the upcoming Resident Evil: Operation Raccoon City). While the premise may sound like a common foundation for just about every zombie-based narrative, the individuality comes out through the characters' personalities and the various story twists and turns, which are commonplace in the franchise. So, even though the idea may seem shallow to begin with, the game shows surprising depth while progressing through the campaign. Not to mention that side quests are back and extend the campaign to the 20 hour mark.
Flashy Special Moves
Over the course of the game, there will be moments where special quick-time events can be activated by the player. QTE's are nothing new to the series, but that doesn't mean that the reworked mechanic isn't still satisfying. Since Dead Souls revolves primarily around gunplay, these context-sensitive instances are tied to the firearms being used. Once the appropriate meter is full, tapping triangle will allow players to search for objects in the environment that can be used to eliminate large groups of enemies at once. For example, if a few gas tanks are sitting in the middle of the street, pressing triangle will highlight them. Simply tap R1 to select the tanks and a bullet will head in their direction. Be sure not to miss the button prompt and the bullet will fly straight into its intended target, causing massive enemy casualties. The possibilities increase upon entering the sections of the game where the player is provided a computer controlled ally. Suddenly, every grouping of undead becomes an opportunity for an explosive QTE. Select a gathering of enemies after tapping triangle and the co-op partner will toss a volley of grenades into the air for the player to shoot. These definitely help break up the otherwise lackluster combat.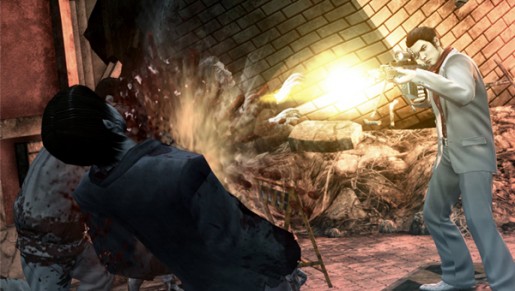 NOT
Aggravating Gunplay
Yakuza has always been known for its superb fighting mechanics, but Dead Souls has decided to ditch that almost entirely in exchange for guns. Sure, some melee weapons are scattered about for use, but they don't deal much damage and they definitely won't help with larger groups of opposition. Since the Yakuza team hadn't seriously dived into the third person shooter genre at this point, the resulting gunplay feels underdeveloped. The reason I said the team hadn't tried out the third person shooter genre "at this point" is because the same developers made Binary Domain this year. Even though Yakuza is hitting the US now, it was developed and completed last year in Japan. Had this game come out later on coupled with the shooting mechanics seen in Binary Domain, Dead Souls could have been something much more. But what we have right now is a jagged shooting experience that provides more frustration than satisfaction. Manual aim and auto-aim are both features in the game, but, trust me, you'll want to let the game aim for you. Manual aiming isn't very reliable due to two factors. First, there's the fact that the game forces the player to aim with the left analog stick. I'm sure it's safe to assume that Western gamers are used to aiming their virtual weaponry with the right stick. Also, with aiming on the left stick, players are grounded where ever they're currently standing just like old Resident Evil games. However, the finer aiming of that established franchise isn't present. So standing still isn't helping the game at all. This is where the second issue presents itself. The zombies come from all angles and can break into full sprint. Wonky controls leave the player even more vulnerable to their continuous attacks. If that doesn't sound bad, wait until you face the heavy damage-dealing bosses.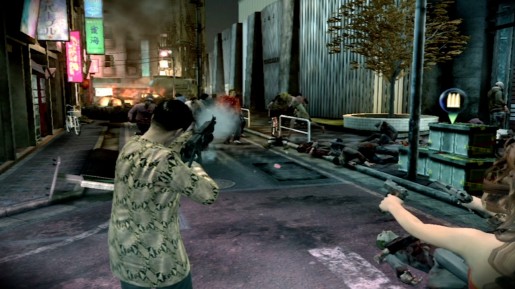 Camera Angle Issues
When the gunplay isn't causing issues, the camera is. There were countless encounters that resulted in poor visibility due to the camera. The automatic targeting system is supposed to lock on to the nearest enemy. Unfortunately, that isn't always the case. Many times the character ended up looking at a wall. Far worse than that is when the player is backed in a corner and tries to aim at oncoming enemies. The camera doesn't seem to know how to react to the player's back being against any sort of structure or obstruction. The result is a skewed view of what's going on and, often times, results in getting attacked by undead hoards that couldn't be seen or aimed at properly.
Horrendous Slowdown
The game revolves around the slaughter of hundreds of undead. With games like Dead Rising able to accompany a staggering amounts of enemies on-screen at once, it's disappointing to see that Dead Souls can't even manage to maintain a constant frame rate when twenty or so enemies are involved in a quick time event. During an early section of the game, Akiyama gained a follower for a little while. This allowed the use of QTE's in almost any situation that contained a group of zombies. Upon completing the special move, the lingering explosion and falling bodies caused considerable frame rate drop for up to 5 seconds. It was nearly impossible to accomplish anything during this time frame. So, it seems that eliminating a cluster of enemies with anything explosive or the quick time events puts too much strain on the game, which is unfortunate since the game encourages this gameplay method.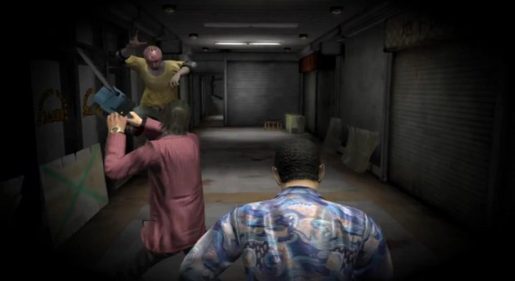 Verdict
Yakuza: Dead Souls provides a compelling atmosphere and cast that craft an entertaining narrative while still staying true to most of Yakuza's core concepts. However, the gameplay is a radical shift from the regular formula and ends up producing a lackluster and annoying experience as the story progresses. With manual aim nearly not an option, the game falls into spamming the fire button as you let the game (try to) aim for you. Dead Souls does provide a lengthy campaign coming in at about 20 hours packed with side quests and activities, but that's assuming you can stand the underdeveloped control system long enough to make it to the credits. If you're a long-time fan of Yakuza, then chances are you'll probably look for any excuse to see Kazume Kiryu again, but I must strongly advise you to wait for Yakuza 5 to make its way over here.
Yakuza: Dead Souls Review

,