2011 Game of the Year Winners
Just over ten days ago we asked you to vote on your favorite video games of 2011. We included many different categories for you to vote in and now we can reveal to you Just Push Start's 2011 Game of the Year winners.
Thousands of you voted and shared your opinion. Did your favorite game manage to win any awards?
GAME OF THE YEAR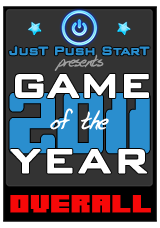 The Elder Scrolls V: Skyrim
'With all of the new things that Bethesda put in Skyrim, they have succeeded once again in making an Elder Scrolls game a surefire contender for "Game of the Year". The improved visuals and gameplay are much improved from Oblivion and the game offers a lot of variety of things to do that everything a fan could ever want from an Elder Scrolls title. As of this date, Skyrim is the pinnacle of RPG gaming offering countless hours of exploration and action.'
Our Review Score: 5 out of 5
Votes Received: 55%
Runner Ups:
Uncharted 3: Drake's Deception – 15%
Batman: Arkham City – 15%
The Legend of Zelda: Skyward Sword – 10%
Dark Souls – 3%
Others – 2%
BEST PLAYSTATION 3 EXCLUSIVE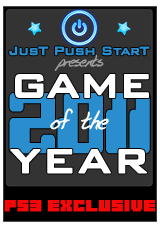 Uncharted 3: Drake's Deception
'Uncharted 3: Drake's Deception is nothing short of a masterpiece when it comes to having a great and compelling story equipped with high-quality presentation and visuals. Uncharted 3 is the pinnacle of storytelling in videogames and no other game out there can come close to the Uncharted 3's perfect narrative story. While the gameplay may not have changed since the second game, except for some new moves in melee combat, Uncharted 3 makes up for it with its charming characters and story that will make you play nonstop from start to finish.'
Our Review Score: 5 out of 5
Votes Received: 68 %
Runner Ups:
Killzone 3 – 10%
inFamous 2 – 15%
Resistance 3 – 5%
BEST XBOX 360 Exclusive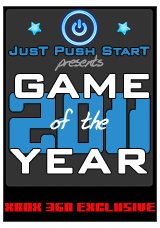 Gears of War 3
'Gears of War 3 is no doubt the best Xbox 360 exclusive game this year that Xbox 360 owners need to get no matter what. While it may feel like it's plays the same as the other two Gears of War games, the new additions such as new environments, enemies, weapons, and the new Beast mode are satisfying enough to make the game stand on its own. Not to mention it's the satisfying conclusion to the series.'
Our Review Score: 4.5 out of 5
Votes Received: 64%
Runner Ups:
Halo Combat Evolved Anniversary – 20%
Forza Motorsport 4 – 16%
BEST WII EXCLUSIVE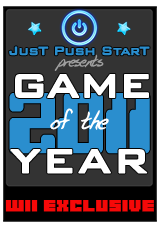 The Legend of Zelda: Skyward Sword
'The Legend of Zelda: Skyward Sword is a must own for anyone who is a fan of the series. It does not matter if Twilight Princess was your first introduction to the series or if your first time meeting Zelda and Link was 25 years ago. This game will have you playing it for hours on end, and when you are not playing you will find yourself constantly thinking about it. The familiar formula of collecting and dungeon conquering still holds true and remains a powerful formula for the series; the Wii Motion Plus demonstrates to what levels a game can depend on motion control accuracy, and the new RPG elements of the game will have you scouring the web, or jotting down your own notes to ensure maximum upgrades.'
Our Review Score: 5 out of 5
Votes Received: 86%
Runner Ups:
Kirby Return to Dreamland – 7%
Xenoblade Chronicles – 6%
BEST SHOOTER
Battlefield 3
'All in all, Battlefield 3 is an amazing game that fans will enjoy even if its only for the multiplayer. The multiplayer alone is the main attraction to the game while the campaign and co-op modes feel like extra tidbits thrown in for your own amusement. While the game has minor bugs and a weak story, it makes up for it with epic set pieces, fun co-op, addicting multiplayer and more unlocks than you can shake a stick at. This is definitely a purchase for fans of the series and the FPS genre alike.'
Our Review Score: 5 out of 5
Votes Received: 46%
Runner Ups:
Modern Warfare 3 – 26%
Gears of War 3 – 13%
Crysis 2 – 7%
Rage – 6%
BEST RPG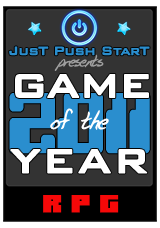 The Elder Scrolls V: Skyrim
'The Elder Scrolls games doesn't only shine due to its epic main storyline. Actually, a lot of gamers fell in love with the series because of the depth the game has to offer when it comes to character customization, the side stories it offers, the extra things that you can do such as enchanting weapons, hunting for the best weapon, or even marrying someone and have your own house. Pretty much, there's a lot to do in Skyrim aside from questing.'
Our Review Score: 5 out of 5
Votes Received: 81%
Runner Ups
Dark Souls – 10%
Xenoblade Chronicles – 4%
The Witcher 2: Assassin's Of Kings – 4%
Atelier Totori: The Adventurer of Arland – 0%
BEST FIGHTING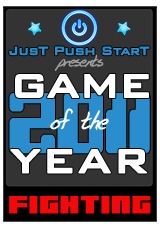 Mortal Kombat
'Mortal Kombat has, once again, risen to the top defining what a fighting game should be. The combat system is now much more accessible and fun, as is pretty much every other aspect of the game. The story mode is engaging and will fill in first timers on the series' history while reminding those who haven't played the originals in a while. Multiplayer sets the standard for fighting games with the inclusion of 4-player tag team matches and King of the Hill mode. Add these to the slew of content that'll have players comboing for hours on end and you have one solid title worth $60. Mortal Kombat brought the series back to its roots and it was the right call. In my book, this is truly a Flawless Victory for NetherRealm Studios because the slight nuisances found within the game are heavily outweighed by everything that was done right. Fighter fans, don't pass this one up.'
Our Review Score: 5 out of 5
Votes Received: 51%
Runner Ups
Ultimate Marvel Vs Capcom 3 – 38%
Tekken Hybrid – 7%
King of Fighters XIII – 2%
BEST PLATFORMER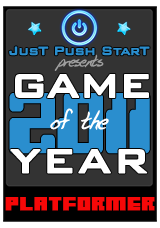 LittleBigPlanet 2
'Sackboy succeeds once again in capturing the hearts of its fan with Media Molecule's latest creation of LittleBigPlanet 2. While the game plays similar to the first game, the things that creators can do with the new tools that can only be used in LittleBigPlanet 2 are unimaginable. Imagine levels that combines different genres such as RPG, first person shooter, and racing games can only be found in LittleBigPlanet 2. Forget about games such as RPG Maker back in the day, in this time, LittleBigPlanet 2 is one of the ways to express the inner game designer a gamer dreams of.'
Our Review Score: 4.5 out of 5
Votes Received: 50%
Runner Ups
Super Mario 3D Land – 31%
Rayman Origins – 11%
Kirby: Return to Dreamland – 6%
BEST PUZZLE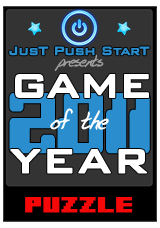 Portal 2
'Following Valve's notable achievement with Portal several years ago, Valve has done it once again with Portal 2. Even though the gameplay is pretty much the same, Valve succeeds in showing its consumers that some puzzle games' satisfaction and excitement never gets old. Thanks to the co-op multiplayer that Portal 2 has to offer, it makes the game even more enjoyable as friends can jump in and solve puzzles together. Between the PC and the console version, getting it on the PC will be a great decision (if you have a PC that can run it). Nevertheless, we are still thankful that Valve released Portal 2 on the consoles. For gamers who are seeking a mind-blowing puzzle game that supports co-op, Portal 2 is a must have.'
Our Review Score: 5 out of 5
Votes Received: 83%
Runner Ups
Catherine – 9%
Professor Layton: The Last Specter – 5%
Rochard – 1%
BEST ACTION-ADVENTURE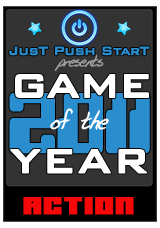 Batman: Arkham City
'In the end, Rocksteady did it again with the release of Arkham City. The game is beautifully impressive and the shift to the open world gameplay really makes a big difference as players can now explore and enjoy the dark streets of Gotham City. Despite the easy boss fights, the game is still phenomenal and simply the greatest Batman adventure you can imagine.'
Our Review Score: 5 out of 5
Votes Received: 38%
Runner Ups
Uncharted 3: Drake's Deception – 22%
The Legend of Zelda: Skyward Sword – 19%
Assassin's Creed: Revelations – 16%
inFamous 2 – 3%
BEST SPORTS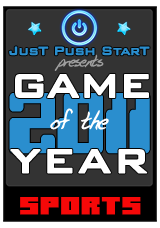 FIFA 12
'FIFA 12 does have a few problems but it also manages to fix plenty of issues from FIFA 11, as well as expanding and improving on successful concepts. The new impact engine revolutionizes the game and provides one of the biggest changes to the franchise in years. The overall presentation has been improved, in addition to almost every other aspect on the game. The gameplay is built for enjoyment and there are hours, days, weeks and even months of fun to be had. If you are a fan of football, FIFA 12 is the game for you.'
Our Review Score: 4.5 out of 5
Votes Received: 38%
Runner Ups
WWE' 12 – 19%
NBA 2K12 – 16%
Madden NFL 11 – 11%
Fight Night Champion – 8%
MLB 11: The Show – 8%
BEST HD COLLECTION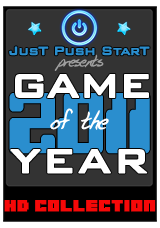 Metal Gear Solid: HD Collection
'In the end, the Metal Gear Solid HD Collection is something Metal Gear fans definitely need to experience, and it offers the perfect opportunity for newcomers to get into the series. The remastered editions of the games have a lot to offer, including high replay value, trophy support, and improved visuals. Everything we loved from the three Metal Gear Solid games remains intact, and the HD upgrade and improvements is enough to bring us back to replay these games again.'
Our Review Score: 4.5 out of 5
Votes Received: 37%
Runner Ups
God of War: Origins Collection – 26%
ICO & Shadow of the Colossus HD Collection – 25%
Splinter Cell: HD Collection – 9%
BEST HANDHELD TITLE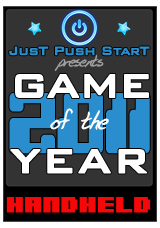 The Legend of Zelda: Ocarina of Time 3D
'The Legend of Zelda: Ocarina of Time 3D is one very good reason to buy a Nintendo 3DS. The classic tale that gamers have been enjoying for over a decade has finally been remade in 3D. With improved visuals and slight changes to the gameplay, revisiting Hyrule in this 3D classic will be more than worth it. Without a doubt, Ocarina of Time 3D is a must-have game for every 3DS owner out there. Newcomers to the Zelda series should start with this game and find out why Zelda is a series that every Nintendo fan loves.'
Our Review Score: 5 out of 5
Votes Received: 50%
Runner Ups
Super Mario 3D Land – 30%
Patapon 3 – 10%
Starfox 64 3D – 8%
OTHER CATEGORIES:
2011 Most Disappointing Game
Duke Nukem: Forever
2011 Overhyped Game
Modern Warfare 3
Most Wanted HD Collection for 2012
Devil May Cry HD Collection
2012 Most Awaited Vita Title
Uncharted: Golden Abyss
Most Anticipated Game of 2012
Grand Theft Auto 5
2011 Game of the Year Winners

,