Who Wants To Be A Millionaire: Special Editions Review
Good: Quintessential Who Wants to be a Millionaire, Local multiplayer, Potential for players to customize their question list (DLC)
Bad: Obtuse presentation,
User Score
0
(0 votes)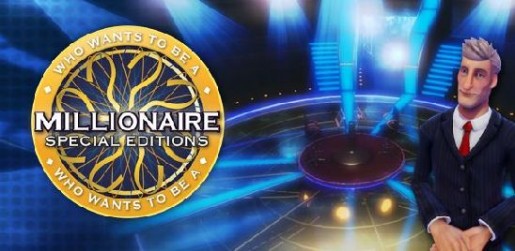 So finally the Xbox Live Arcade gets its own version of the popular Who Wants to be a Millionaire quiz show. This begs a question, the kind that will decide how a game like this performs.  How well can a developer take the core concept from a hit TV quiz show and make it into a successful interactive experience? A TV quiz show is exciting for an entirely different reason than a videogame, and anyone attempting to bridge the gap has a difficult job. Does the videogame Special Edition of the juggernaut franchise work as a videogame, or does its strict game-show blueprint stop it from ever excelling? Check out my review for the HOTs and NOTs.
HOT
Quintessential Who Wants to be a Millionaire
When you buy a game named after a popular TV show you do so with certain expectations. Let it be said that WWBTAM:SE doesn't disappoint in this area. The game is a straight imitation of the nail-biting show you watch on the television. Being the biggest television franchise in the world the format should hardly need any introduction. However for those of you who have gone your entire lives without hearing a Who Wants to be a Millionaire host incessantly repeat "Is that your final answer…?" I will offer a quick recap.
WWTBAM is a quiz show that takes its time. There are no time limits, and contestants are free to discuss out loud their thought process with the host until they can commit to one answer. The 15 questions are broken up into three tiers, each one getting progressively more difficult, on subjects varying from popular sayings, history, television, and most facets of pop-culture. Every 5th question is a milestone that will keep you from losing it all should you fail an upcoming question. Though monetary values are completely arbitrary in the game version, I concede that they're a necessary part of the WWTBAM layout.
The fastest finger first round that takes place before every game seems like a redundant, if traditional, feature. The idea is to list four answers in a specific order to beat the competition and get in the hot seat. However in single player you'll hit the hot seat whatever you do, and the only real purpose for this part of the game is when you're playing it with friends.
Of course the three life-lines of the show are included to help you climb your way to the coveted one million prize.' Fifty-fifty' removes two of incorrect answer, 'ask the audience' will have the virtual audience vote on an answer with one usually pointing to the correct answer. 'Phone a friend' will summon an audio clip of a 'friend' who will either point you to an answer or trail off into a clueless silence, leaving you with a vague sense of betrayal.
WWTBAM has a simple format which is why it's been so successful the world over, and its simple structure is imitated coherently. While it's not hard to find a WWTBAM game on the market, with each one offering essentially the same experience, know that this one is indeed a faithful recreation of the show.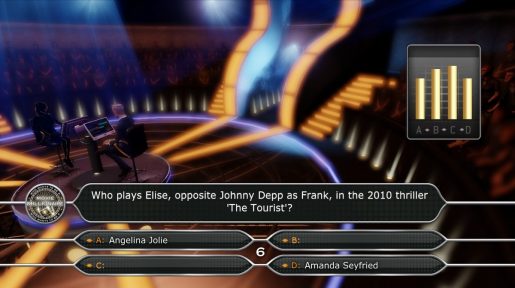 Local multiplayer
My experiences with single player WWTBAM were…underwhelming. Sitting on my own and being constantly reminded about my own crippling lack of general knowledge only drove me to abuse the lack of a time limit by using Wikipedia. Thankfully when you have friends in the room to play against they tend to take issue when you Google for the correct answers. The fact remains that playing WWTBAM single player will only appeal to those die-hard quiz game aficionados and those desperately looking for something to do in a ten minute coffee break. Playing it with friends makes it feel like more of a social game, with people cheering on desperate, last-ditch guesses and giving their advice when all but one person has dropped out. While not a party game by any means, WWTBAM:SE is a fairly engaging experience when played with friends, if only for a few rounds.
Potential for players to customize their question list (DLC)
I was given access to the two DLC packs for WWTBAM:SE and while these two packs are the only pieces available as of writing, Deep Silver have promised future packs based on other popular brands. The Who Wants To Be A Movie Millionaire pack adds a variety of different movie related questions, which certainly are nice to have being entertaining as well as bolstering the core 1200 question bank. Though the movie pack only adds different questions, the DLC pack that was extremely enjoyable was the South Park pack as it added new questions, graphics and sounds.
The South Park pack used characters and voices from the show, as well as an original animated introduction. Seeing a South Park character cast nervous glances around the WWTBAM studio is a pleasant touch that helps set the theme for the questions to come. You can choose to play these questions on their own or mix them into the main game, meaning you can slightly customize the experience. However, with over 1,200 questions already loaded into the game, the chances of naturally coming across the expansion questions are pretty small.
I don't want to dwell too much on how the DLC adds to the core game, but I think it's certainly worth mentioning the potential that WWTBAM:SE offers. Compulsive quiz buffs will no doubt relish the chance for persistent updates in case the 1200 starting questions ever become repetitive, and what I've seen of the themed packs is fairly impressive given the stringent confines of the WWTBAM formula.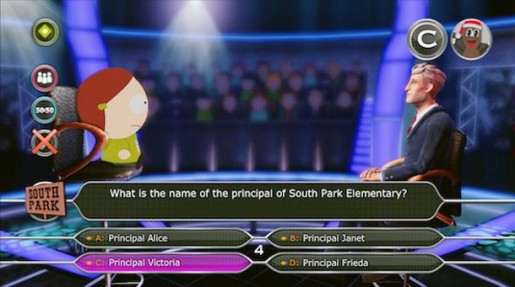 NOT
Obtuse presentation
I'd like to return to my original point for a moment. How do you take a popular quiz show like Who Wants to be a Millionaire and make it applicable and successful in an entirely different medium? The quiz show works because you become invested in the person sitting in the hot seat. You, as a viewer, are invited to feel a part of that tension, despite having no investment in the outcome. The organic way that host and contestant interact, coupled with that tension, are what makes WWTBAM an engaging show to watch despite its simplistic formula. Special Edition, however, never manages to nail this tension thanks to the corner-cutting voice overs.
As indicated earlier WWTBAM:SE is essentially a list of fifteen questions, and I can sympathise that this isn't the most engaging premise for a game, however with enough care the steady, methodical climb to the coveted one million can be dramatized. It seldom is, though. The host speaks to you with the amiable patience of a primary school teacher, like he's always talking at you and not to you. He'll ramp up the tension by leaving you hanging on tougher questions, but this is the only time when the game mimics the manipulation of the TV show. Phoning a friend is a prime example. Rather than offering various friends to say a few words about the difficulty of the question there's an awkward segue where your indecisive friend will mutter (erm….ahhh….hmmm….urgh…?) before either giving you something to go on or leaving you hanging. It's these times when the game becomes transparent and the nuts and bolts are revealed. The tension that's required to make this game exciting seeps away when you can constantly see the rough edges between the host's voice-over and the situation you're in. There simply aren't enough original audio segments for the host to be believable and he quickly dives into the uncanny valley with his weird contorted facial expressions and constant, misplaced noises of "Ahmm" and "Hmmm?"
The music is the classic WWTBAM score that ramps up in pitch as the questions get more difficult. The music is straight from the show and obviously this fits the game amiably. However, the pass in the music department isn't enough to forgive the failures in other areas of presentation.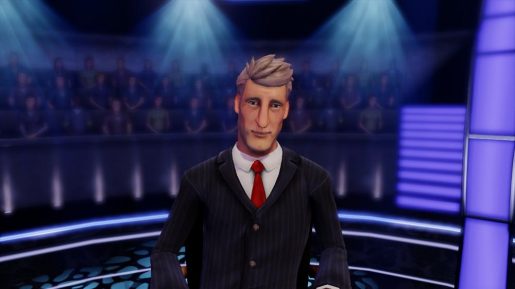 VERDICT
Who Wants To Be A Millionaire: Special Editions is an adequate translation of the hit TV show to your console. A TV game show is never going to translate brilliantly to the interactive medium of videogames, but most the practical components are here and function as expected. The only real failure with WWTBAM:SE is with its muddled execution. The awkward host and laughable phone a friend conversations means that any tension and investment are removed. This is an adequate WWTBAM game, and with the promise of future question packs it might even become the best. However taken as a singular, videogame experience it's little more than a routine game of trivia. Fans of the show and quiz show lovers will enjoy it, and it might be worth the price if you're itching for some multiplayer trivia. However, with the tension and glamour of the show robbed by the awkward presentation WWTBAM:SE returns to its bare-bones functional basis: a serviceable yet thoroughly average and unremarkable trivia game.
[
Editor's Note:
Who Wants To Be A Millionaire: Special Edition was reviewed on the Xbox 360. The game and the two DLC packs, Who Wants To Be A Movie Millionaire and the South Park – Millionaire Special Edition, were provided to us by the publisher for review purposes. All game modes were played.]